The core of TaskEasy is our nationwide network of contractors, composed of new and veteran lawn care professionals who have started their own businesses and are working with TaskEasy to save time, get more customers, and grow their businesses.
If you're already working in the lawn care industry, sign up to work with TaskEasy to get jobs immediately. But no matter your experience level, you may be wondering how to start your own landscaping business. Before you begin, it's important to do some research to find out if starting your own business is the right choice for you.
To help you get going, we've put together this "how to start a landscaping business" guide on how to start your own landscaping business. We've also interviewed some of our contractors to bring you valuable advice and tips. If you're planning on running your own lawn care business or are simply interested in the process, read on.
Why Start a Landscaping Business?
Pick a Name for Your Landscaping Business
Identify Your Goals
Develop a Mission Statement
Create a Business Plan
List Your Startup Expenses
Get a Business License
Organize Your Finances
Plan a Scope of Services
Hire a Crew
Sign Up for TaskEasy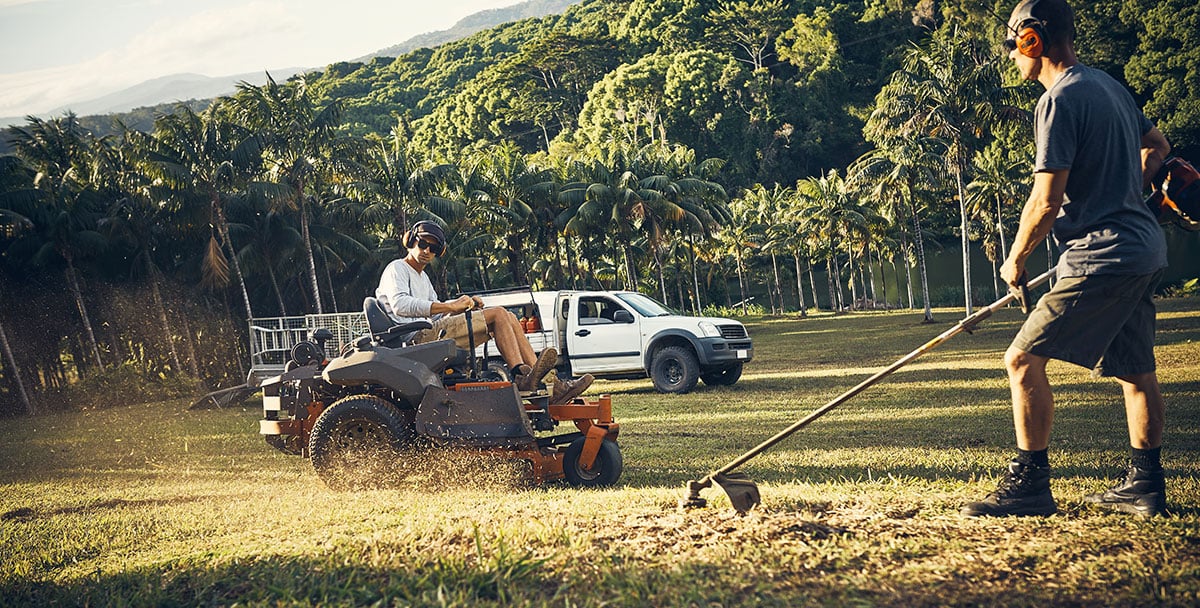 Why Start a Landscaping Business?
Starting your own landscaping business is an attractive option for those who want to be their own boss, set their own schedule, and work on their own terms. Investing in your dreams can be overwhelming at first but if you do it right, it will pay off in a big way.
Lawn care is a great industry to enter because there is no shortage of lawns in the United States. The industry is booming and has an annual revenue of $105.1 billion and an annual growth of 2.5%. Lawns aren't going anywhere anytime soon.
Check out the steps below to get started and learn what you'll need to build a successful foundation for your business.
Step 1: Pick a Name For Your Landscaping Business

The first step in "how to start a landscaping business" is picking a name. Your business name will be the first thing that people see or hear when being introduced to your business, so it's important to put some thought into it. Going through the hoops of changing your business name once established can be a pain, so you want to get it right from the start.
Here are some tips to help you brainstorm a name for your landscaping business:
Because so much of a business presence is online now, it's important to pick a name that allows you to also get a relevant matching domain name.
Go for something unique that will stand out from the crowd. Having a generic, forgettable name makes it easy for people to pass over your business.
Keep it simple with something short and to the point. If your business name is too long and complicated, people will struggle to remember it.
Tell people what your business does in the name. If you can, include the word "lawn" or "landscape" so potential customers don't have to guess.
Don't box yourself in. For example, don't name your business "Bob's Sprinkler Repairs" if you plan on expanding beyond sprinkler repair in the future.
Step 2: Identify Your Goals

Before you start a landscaping business, you'll need to identify your goals so you know exactly what you want to accomplish. Why are you starting a lawn maintenance business? How many hours do you want to work? Who will your first customer be? Where do you want to find your first customer? These are all important questions to ask yourself.
Step 3: Develop a Mission Statement

Developing an internal mission statement is the perfect way to help clearly define who you are and what your priorities are. You should strive to follow your mission statement in every way you operate. And if your goals change, your statement can too. Your mission statement should answer the following questions:
What do we do?

How do we do it?

For whom do we do it?

What value do we provide?
For example: Our mission is to be the leading provider of automated property maintenance services, helping our customers save time and spend it on what matters most. In this statement, we clearly lay out our goals, the benefits of TaskEasy, and who we are striving to help.
Step 4: Create a Business Plan

The first things you'll need to start a landscaping business are passion and discipline. After that, you'll need a business plan. Creating a business plan involves creating a list of starting expenses and setting long-term and short-term revenue goals. Once you have this foundation, you'll be able to set steps to help you reach those goals. If you need a bit more guidance, this website provides a sample lawn landscaping business plan you can follow.
Step 5: List Your Startup Expenses
It's best to have some money set aside before you start a landscaping business so that you aren't starting out in the negative. Some common startup expenses for a lawn care business include:
A smartphone and a tablet with internet access

Licensing

Insurance - Workers Comp and General Liability (Please note: TaskEasy offers insurance on a per-job basis)

Vehicle and business insurance (this is a requirement to get a license in most states)

Powerful pickup truck or truck with flatbed trailer

Two commercial mowers (it's always smart to have two just in case something happens to one)

Gas cans (1-2 gallon)

1 for regular fuel for your mower and 1 for mixed-fuel for your blower, edger, etc. (always refer to user manual to find out which type of fuel to use)

Trimmer for reaching grass around trees and other hard-to-reach areas

Edger for cutting overgrown grass on the borders of lawns and driveways

Blower for blasting away stray clippings that litter sidewalks and driveways

Smaller tools for various tasks

Gardening shovel

Shears

Rakes

Standard tool box for simple repairs

Fertilizers and pesticides

Safety Equipment

Noise-canceling headphones

Safety goggles

Steel-toed boots

Sturdy gloves
The total cost for everything you need will vary but typical startup costs for a landscaping business range from $15,000 to $20,000 if you're starting completely empty-handed.
How to Save on Lawn Care Equipment
If you can, we recommend finding equipment that is used but in like-new condition. This could save you hundreds of dollars over time. You can look for equipment at yard sales, auctions, or online. We do not recommend renting tools. Renting tools is more costly over time and it's always a good idea to own your own tools in case of an emergency.
TaskEasy contractor Benny C. recommends SCAG power equipment as the best in quality and power when looking for a commercial mower. Other popular commercial-grade equipment brands include Stihl, DEWALT, Exmark, and Toro.
Step 6: Get a Business License
In order to own a landscaping business, most states will require you to obtain a state business license if you meet certain criteria, but it's a relatively simple process. How much does a landscaping license cost? The fee for a business license varies but can be anywhere from $15 to $200 annually. You'll also need an Employer Identification Number (EIN) to set up business commerce accounts so that you can receive tax breaks for business expenses. For individual details, contact your state business licensing service for more information on what type of license and permits you will need as well as landscaping license cost.
Step 7: Organize Your Finances
If you've never operated a business before, we highly recommend consulting a professional tax advisor to help you get started. Many of them offer a free first consultation to help you out. For day-to-day operations, TaskEasy contractor Richard L. suggests looking into QuickBooks software for an easy-to-use accounting program to input everyday revenue and expenses starting at only $9.99 a month.
You'll need to keep track of every penny that comes in or out, and make sure to keep business finances completely separate from your personal finances. Here's a step-by-step guide on how to open a business account if you are stuck.
Step 8: Plan a Scope of Services
The next step in starting a landscaping business is deciding what services to offer and what your price point will be. Landscaping companies typically offer tree and shrub trimming, sod/seed installation, and weeding, among many additional services, to supplement basic lawn mowing services.
For pricing, do some research on other landscaping companies in your area to get an idea of what to charge for your services. You can also check out this step-by-step guide on pricing a landscaping job. If you sign up to receive work from TaskEasy, you won't need to worry about the hassle of setting prices because we provide customers who've already ordered services with standardized pricing based on their yard's square footage and fair market pricing.
Step 9: Hire a Crew
Do you want to start your landscaping business by yourself and see how things go or have a small crew to handle more customers? Starting out on your own is a respectable decision but if you do decide to hire some employees, you'll need to keep the following in mind:
Be careful when hiring friends or family members because it can often lead to tense situations should conflict arise. If you do go that route, make sure to always leave emotion and personal issues out of the picture and to keep things professional.
The cheapest hire isn't always the best hire. Sometimes it's better to hire someone who requires a higher salary because expertise is important. That's not to say a lower salary is always reflective of quality, but we advise you to be careful.
Look for friendly people. Customer service is one of the most important aspects to running a business and hiring someone who isn't great with people could potentially give your business a bad name. Hire friendly, well-spoken individuals who you can trust.
Work your existing contacts by reaching out to vendors, clients, and other peers in your community. Make use of other resources as well, such as online job boards, help wanted signs, and flyers.
Also, keep in mind that you don't need to hire employees right off the bat. If you want to get a feel for the business first, by all means go for it! Once you're ready to expand, you'll have the knowledge and expertise to pass on to your crew members.
Step 10: Sign Up for TaskEasy
Once you have your landscaping business in order and are ready to start working, you'll want to sign up to work as a contractor at TaskEasy. It's free and you'll have immediate access to lawn care jobs in your area. Plus, there's no need to worry about billing and invoicing, and with our FastPay option, you can have cash in a matter of days.
Conclusion
These are just a few things to consider when starting a new lawn care business. Like with any other entrepreneurial goals, growing will take time and practicing patience will come in handy. Running a small business can be stressful but if you work hard and utilize the resources available to you, you can find freedom and success in no time.
Good luck with your business pursuits! If you would like to learn more about marketing your landscaping business once it's established, go to the next volume to learn some marketing tips to help you grow your customer base.