For a quick, healthy meal, look no further than your spring garden. Artichokes, mustard greens, arugula, and kale are just some of the flavorful veggies you can use to make a delicious, easy dish in little to no time at all. In these series we'll give you 6 delicious recipes to try!
---
Healthy Chicken and Arugula Salad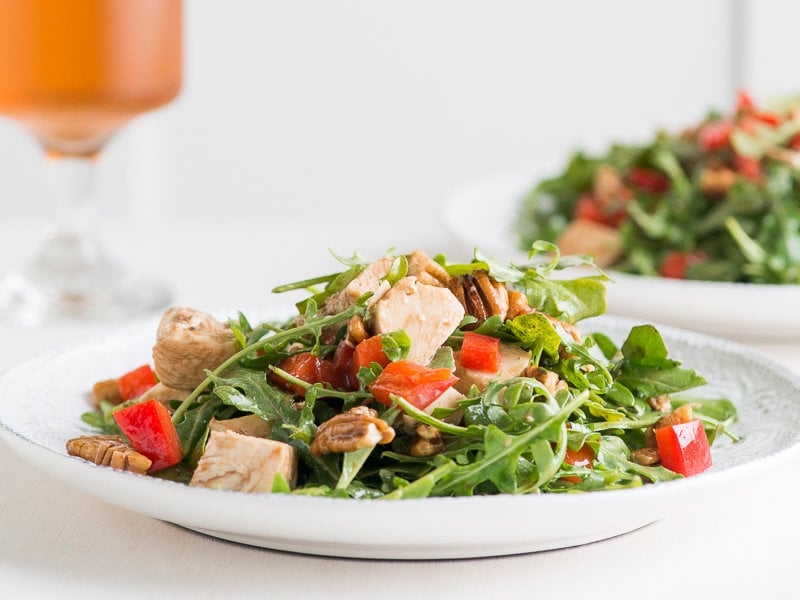 Healthy can still mean tons of flavor and this salad really delivers. From the zesty lemon vinaigrette to the crunchy pecans (not to mention the arugula itself), this combination of protein, spices and greens will keep your clean eating on track.
Ingredients
Poached Chicken
1 pound boneless, skinless chicken breasts

4-5 sprigs Italian parsley, thyme or oregano, tied together

1 bay leaf

1 garlic clove

1 tablespoon kosher or sea salt

1 teaspoon black peppercorns
Salad
4 cups arugula

1/2 cup chopped roasted pecans

1 medium bell pepper, chopped

1/4 cup extra-virgin olive oil

2 tablespoons fresh lemon juice

1 tablespoon balsamic vinegar

1 teaspoon Dijon mustard

1 medium clove garlic, minced

1 teaspoon brown sugar

1/4 teaspoon kosher or sea salt, or to taste

Fresh cracked black pepper
Preparation
Rinse off the chicken breasts. Fill a medium stockpot with water and add the herbs, bay leaf, garlic, salt and peppercorns. Bring the water to a boil and add the chicken breasts.

Return the water to a boil and then lower heat to medium. Simmer for 5 minutes. Remove the pot from the heat, cover with a lid and keep the chicken in the hot water for another 15 to 20 minutes or until cooked through.

Remove the chicken from the water and cut into large bite-size pieces. Set aside to cool.

In a large bowl, combine the arugula, pecans, bell pepper and chicken. Set aside.

In another bowl, whisk together the olive oil, lemon juice, balsamic vinegar, Dijon mustard, garlic, brown sugar and season with salt and pepper.

Pour the dressing over the salad ingredients and toss to coat. Chill and serve.
(Original recipe here) © Todd Porter & Diane Cu
Enjoy the fruits (and vegetables) of your labor in a meal fresh from your garden with this recipe. If you're looking for even more time to spend cooking a delicious meal, let TaskEasy take lawn mowing off your to-do list and order weekly lawn service here.
Next week's dish will feature both zucchini and tomatoes, so stay tuned!