The following documents will need to be acquired by your insurance agent. TaskEasy requires both General Liability and Occupational Accidental Insurance. Each document must adhere to the following:
To ensure TaskEasy is given proper notice to any updates to your insurance policy by your agency, TaskEasy must be listed as a Certificate Holder for both General Liability and Workers Comp policies.
Additionally Insured Endorsement form
Additional Insured for Completed Operations Endorsement form
Waiver of Subrogation Endorsement form
$1 million for Each Occurrence and $2 million for General Aggregate
Workers Comp (or Occupational Accidental) Requirements
Waiver of Subrogation Endorsement form
$100,000 for Each Accident and Disease-Each Employee and $500,000 for Disease-Policy Limit
***Please list the form name and number of the endorsement forms in the "Descriptions of Operations/Locations/Vehicles" box AND provide the actual endorsement pages (the endorsement pages NEED to have the policy number listed.)
THE DESCRIPTIONS OF OPERATIONS BOX NEEDS TO READ AS FOLLOWS:
TaskEasy, Inc is included as an additional insured for General Liability including Products and Completed Operations per form "Number". A waiver of subrogation applies in favor of TaskEasy, Inc. for General Liability and Workers Compensation per form "Number".***
You have 30 days from the time you sign up with TaskEasy to upload and have approved the necessary documentation. If after 30 days your insurance documentation is not uploaded and approved TaskEasy will automatically set you up for the TaskEasy's per-job insurance.
View Sample Certificate of Insurance
Uploading Certificate Of Insurance
To upload your Certificate of Insurance, log into the TaskEasy Contractors App
In the top right corner, click on the menu. From there, navigate to the 'Legal Info' section and select, 'Insurance'.
Once the form is complete and all the required documents are uploaded, TaskEasy will receive a notification to verify your insurance. Please allow up to 3 business days to verify your insurance. We will notify you if everything is good to go or if we need any additional information.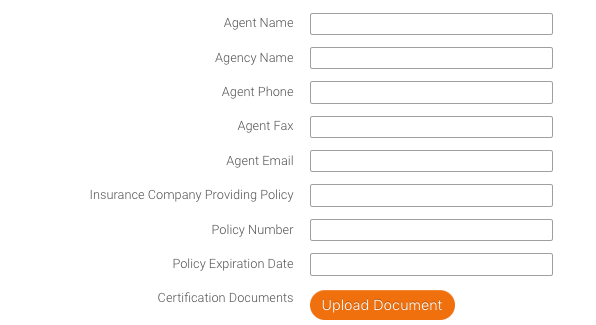 Don't Meet Our Insurance Requirements?
If you don't meet our insurance requirements, we can provide you with insurance on a per-job basis. Learn more.