A key to a landlord's success is choosing the right tools that can help streamline property management. The difference between good, user-friendly software and the software that lacks vital features is the difference between a responsive landlord and the landlord who gets overwhelmed with tenant requests and property updates.
Whether you are looking to upgrade your property management software or choosing software for your business for the first time, this article will explain what to look for in the property management software and compare the best property management tools available on the market.
What kind of property management software to choose?
There are various property management software, some targeted at small to midsize property portfolios, while others can handle hundreds of properties without a hitch. Whether you oversee an extensive real estate portfolio that spans across multiple cities and states, or a smaller operation with under 50 units, this article will acquaint you with the best software that property management has to offer.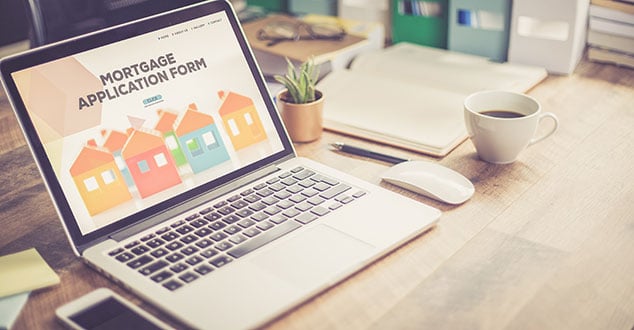 What to look for in the property management software?
Property management software should give the property manager all the tools related to managing a property in one place. We recommend cloud-based software so that you can access your properties from anywhere. Good property management software simplifies operations such as:
Property listings
Rental applications
Tenant screenings
Signing and renewing leases
Rent payments
Tenant communication
Maintenance requests
Accounting
Property history, and more
When we chose the best property management software, we took into account:
User-friendliness and interface
Customer reviews
Customer support
Features
All these factors were taken into consideration when choosing the best property management software for the real estate investors and property management running large and small property portfolios. The following list is in alphabetical order of some of the best property management software on the market.
AppFolio Property Manager
Perfect for: a mixed portfolio of residential and commercial properties, 200+ units
AppFolio Property Manager offers two different plans depending on your needs. AppFolio Property Manager is best used for your small to midsize businesses. AppFolio Property Manager Plus offers bonus features that will help your large business continue to grow.
It's an easy-to-use software that includes an owner portal, maintenance, support, marketing, residents and leasing, accounting, and reporting. See a full list of features and benefits.
It can be set apart from similar software as an all-in-one solution. This software can stand alone and cover everything you would ever think about needing to manage your properties. Using this software, you'll have access to all the training and support team that AppFolio offers to all its customers.
A downside is that because it is meant to be an all-in-one solution, this software is not very customizable, making it difficult to use a separate program to track finances. AppFolio Property Manager may not be the best option for you if you are committed to using a separate software for other tasks.
Price: minimum monthly subscription fee of $250, plus $1.25/unit for each additional unit over 200 units, free demo
Buildium
Perfect for: Residential and association property managers, 1,000+ units
For 150 units or less, Buildium Core offers all the essential features with an additional cost for add-ons. With Buildium Pro, all features are included in the monthly payment, and you will have access to a team that will load your property information onto the software.
Buildium makes accounting, business operations, leasing, and community associations management easy to navigate. See a full list of Buildium features and benefits.
The software was created to help you manage your properties with the tenants in mind. Buildium knows that establishing relationships with your tenants is essential, so they include discussion boards for your renters to communicate with you and other tenants openly. Tenants answering their own questions will save you time, but you should monitor the discussion boards regularly.
Managing maintenance has never been easier. With Buildium, you can assign tenant requested repairs to vendors directly through the software. Buildium is also easy on your tenants because they have access to documents like their lease through the software, so they won't ever lose it.
Some disadvantages with the software are that it is geared towards residential properties. If you have commercial properties in your mix, Buildium might not be right for you. Also, if you don't upgrade to Buildium Pro, there are additional fees that may sneak up on you.
Price: Buildium Core starts at $47/month, free trial available
Cozy
Perfect for: residential property managers with less than 50 properties
Cozy is an excellent choice for property managers that can't spend a fortune on software because it is free to all users.
The features that this software offers include marketing your rentals, tenant screenings, rent collection, organizing expenses, and tracking maintenance requests. See a full list of features and benefits.
Preparing to rent out an empty unit is effortless with Cozy. You can compare applicants and their credit history side by side to see who is the best fit. Credit reports are paid for by applicants in their application fee, so you don't have to pay anything and still obtain critical information. Cozy offers accessible rental insurance, so you can worry less knowing that the property is covered.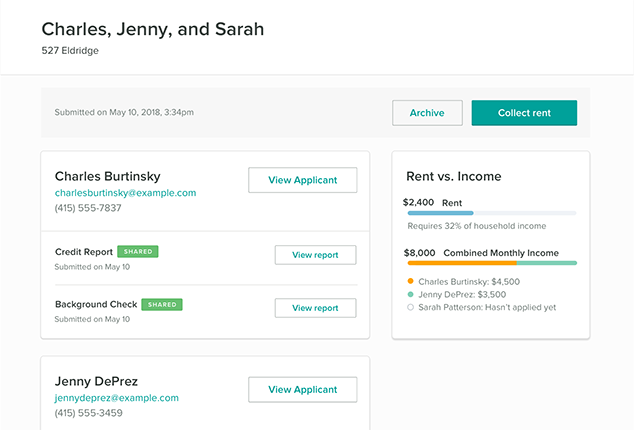 Image from Cozy
The downside is that Cozy charges the tenants a 2.75% service fee when paying their rent with a credit or debit card. This doesn't cost you anything but could lead to some annoyed tenants. Luckily, there is no extra charge if they pay rent from their checking account.
It also takes around six days for the tenants payments to reach your bank account. You can add on the express payment feature to receive it in half the time for $2.99/month per unit.
Cozy may not be the best choice for managing over 50 properties because it does not offer as many features as other software might.
Price: Free
Rentec Direct
Perfect for: professional property managers with a substantial amount of units, mixed portfolio
Rentec Direct offers three options: Rentec Basic, Rentec Pro, and Rentec PM. Rentec Basic is a free software for those managing less than ten units. The primary difference between Rentec Pro and Rentec PM is that Rentec PM has an owner platform where the landlord can receive payments.
Rentec Direct offers accounting, operations, leasing and management, and many more features. See a full list of features and benefits.
Rentec Direct offers lead tenant tracking. When applicants have given you their information, the software matches them up with your vacancies to find the best fit. You can also automatically publish rental property openings on the top online rental listing services.
Using Rentec Direct, you are eligible to purchase Rentec Protect, which gives you one free premium tenant screening for $15/month. You can also buy extensive background screenings at wholesale price with this service.
Users have reported that Rentec Direct does not have adequate financial tracking and use separate software for complex financial reporting. If you'd like more than the basic financial reports, you might not be able to keep the property management tasks and finances in one software.
Price: Starting at $45 for over ten units, first two weeks free
ResMan
Perfect for: multifamily, affordable, and commercial properties, 150+ units
ResMan features include accounting, budgeting, resident screening, reporting, and more. See a full list of features and benefits.
ResMan prides itself on how their team makes your transition to their software easy. Their implementation team transfers all your old data to the ResMan software, so you don't have to spend hours setting it up. The implementation team sticks with you to continuously reconfigure the settings to what works best for your business. Users have been highly satisfied with this software and have rated it as easy-to-use.
ResMan knows the importance of communication and has unlimited texting through the software so that you can easily communicate with your residents and staff. You can communicate with potential tenants easily as well using the full marketing suite, ResMan Marketing, even if you don't use ResMan for property management
It has a high-quality budgeting tool to help you keep organized. This is very effective in helping you know how many units need to be filled to meet your budget goals with a projection forecast.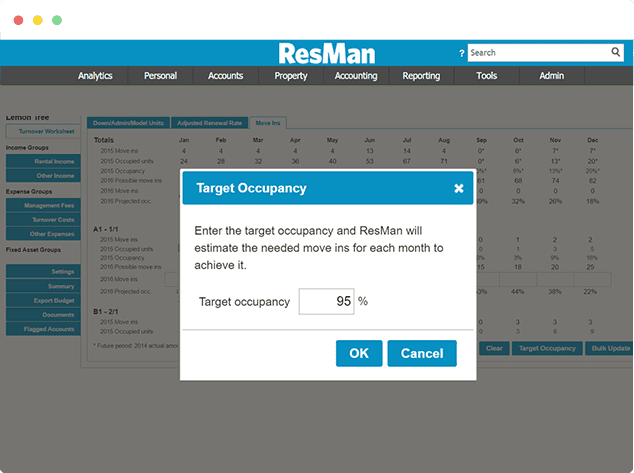 Image from ResMan
A drawback is that it can take longer to get started using ResMan because the timing depends on the implementation team. You don't have control over how quickly they get your information transferred to the new software. Users also reported price increases with updates as new features became available.
Pricing: Free demo, contact ResMan for quote
It's time to ditch the spreadsheets and start working with one of these fantastic property management software. There are various property management software available to you. They all have distinct features and strengths so that you can decide which one fits your circumstances best.