TaskEasy uses state-of-the-art weather forecasting to predict snowfall in your area. When we forecast 1 or more inches of snowfall, TaskEasy will automatically add a job to your schedule for properties you agreed to service prior to the storm.
When 1 or more inches of snow accumulate, you will have 24 hours after the snowstorm to clear the property of snow.
Every snow removal job requires deicer to be applied.
Pricing for services is based on the size of the areas cleared and the depth of snow.
Like lawn mowing, take and upload before/after photos to verify the completion of work.
Snow Removal Scope of Work
Clear driveways, sidewalks, and walkways of snow.
Never block driveways, sidewalks or mailboxes with snow as this will result in immediate rejection of work.
Clear steps and porches leading to the front door.
Includes clearing snow from the steps and porch to prevent slips and falls.
Apply deicer to areas that have high traffic and are prone to icy conditions.
Use your best judgment in determining the correct product to apply based on the client's needs.
Snow Removal Photo Requirements
Good Before and After Photos of Snow Removal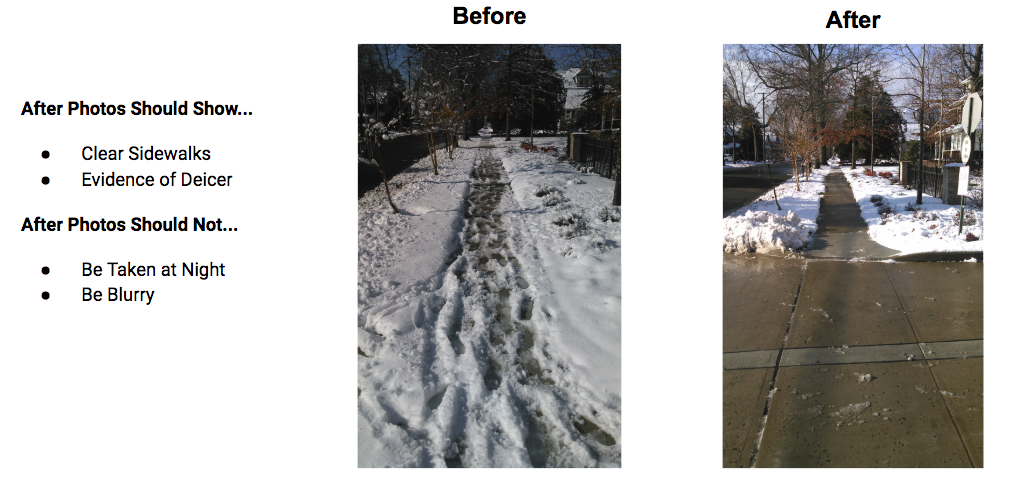 Tips For Taking Snow Removal Photos
Use a measurement tool to show the depth of snow.
To take accurate measurement photos we require a measurement tool to show depth. Measurement photos should only be taken on sidewalks, driveways, and walkways
Take photos showing deicer was applied.
When applying deicer, be sure to provide us with a photo to show it was applied. We suggest using colored deicer or taking an action photo of you or your crew putting it down
Use your truck lights to take pictures in the dark.
Because it gets dark earlier during the winter, be sure that your photos have sufficient light to see that the work was completed. If you are in the field and happen to run out of light, we suggest using your truck lights to get the right images.
Timeline to Complete a Snow Removal Job
Our contractors will have 24 hours from the last snowfall to clear the snow from the property. We wait until the last snowfall to avoid snow accumulating while the job is being completed and it guarantees that the snow will be cleared until the next storm.
What to do if a Job is on Your Schedule and There is Little or no Snow
This year, we will no longer be skipping snow jobs inside of the app. If you show up to a property and there is little to no snow, you are now required to apply deicer. This new initiative will ensure that if a snow job is added to your schedule, that you will get paid and the property will be free of ice regardless of whether or not there has been an accumulation of snow. After applying deicer, you are guaranteed to be paid for the job ($30 est.).
Snow Removal Do's and Don't
DO use deicer where applicable; high traffic areas and areas prone to icy conditions
DO dispatch your crews after 1 inch of snow has accumulated and only after the last snowflake has fallen
DO use measurement tools to show depth of snow
DON'T take measurement photos on the lawn. Measurements should ONLY be taken on sidewalks, driveways and walkways.
DON'T block driveways, sidewalks or mailboxes with snow
DON'T clear snow off of cars, roofs or decks