New Request Additional Funds Button
When working jobs in the TaskEasy app, you will see a new Request Additional Funds button right underneath Before Photos.
Once you've taken all the required Before Photos, you will be able to press this button to request additional funds due to overgrowth – the button will be grayed out until all the required Before Photos are taken.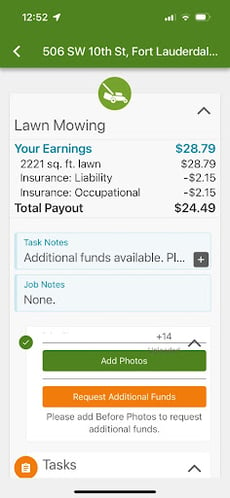 Please Note
This functionality is intended to be used for overgrowth and excessive in-scope items only
You should still call for items such as: Debris blocking work from being done, leaves covering the property, etc.
If there are jobs you could do to improve curb appeal that are not part of the scope of work, you can email bids@taskeasy.com with a detailed bid breakdown after you have completed the in-scope work.



What Happens When You Push the Request Additional Funds Button
When you press the Request Additional Funds button, you will be prompted to:
Enter the average lawn height of the whole yard - depending on the length of grass, you may be asked to enter the additional cost to mow that height
Enter the additional price you need for any non-lawn in-scope items due to excessive overgrowth or additional work
Leave notes detailing why the additional funds are needed
Take at least 1 photo or more that clearly show the need for additional funds
After you have inputted the information, we will review it and let you know if we can approve the funds or negotiate to a number we can approve onsite. If we can approve the funds, we will add them immediately and you can complete the job! If we are unable to approve the funds at that time, we will begin the bid review process - you can continue with the next job on your schedule - no bid email needed.
If notes and photos do not justify additional funds, we may deny or change the amount of additional funds when we review the completed job photos. So make sure that it is clear why this amount of additional funds is needed.
Requesting Additional funds through the app will not be available for some jobs. In those cases we will prompt you to call with your request.
Feedback Needed
We are currently testing out this functionality for a limited time with only Lawn and Desertscape jobs and only on main contractor logins.
Please let us know of any issues you are experiencing. If you have feedback at any time, please fill out the feedback form below. We look forward to hearing from you!