Today fewer and fewer people are turning to their friends and family for recommendations on home service and are instead confiding in Google for advice on their next purchase. Millions of consumers leave reviews on Google with the intent of helping others make an educated decision on a product, service, company or even their next meal...and it's working. Relying on reviews has become so common that consumers read an average of 10 online reviews before trusting a local business.
If you're thinking online reviews won't work for landscaping businesses, you're dead wrong. Each month, consumers search for landscaping businesses and services using the phrase "landscaping near me" 30,000 - 70,000 times. As much as 28% of 'near me' searches result in a purchase. If you're marketing your business on Google and responding to reviews, your chances of easily landing a new customer is highly likely.
TaskEasy has partnered with Podium, a company who helps collect and manage online reviews in one centralized platform, to help raise awareness about the important role reviews play in landscaping businesses and what business can do to improve their online reputation.
Join TaskEasy CMO/COO Karl Sowa and Podium Head of Home Services, David Hepworth Thursday, November 14, 2019, 1 PM EST for a free webinar on how landscapers can market and grow their business in the digital age.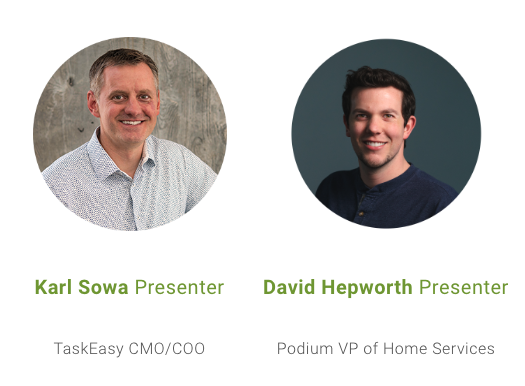 Register today and learn how you can attract new customers online using Google to market your business and why online reviews are the new word-of-mouth marketing

About the Presenter
Karl Sowa is the Chief Operating Officer and Chief Marketing Officer of TaskEasy. Before joining TaskEasy, Karl was the CMO at HomeAdvisor where he helped rebrand the company and launch the company's first successful national DRTV (Direct Response Television) campaign. Karl has a bachelor's degree in industrial engineering from Columbia University and an MBA from Stanford University.