Dear TaskEasy Contractor,
When TaskEasy first began back in 2013, we were operating our business from our CEO's basement, selling services exclusively for homeowners. Fast forward six years, we have evolved our business towards servicing commercial properties and single-family rental properties nationwide – allowing us to offer you even more tasks.
As we continue to progress our business forward to provide the best experience possible for our customers and contractors we will be making a change to the way we pay you. Starting Wednesday, July 31st, we will begin grouping your payments and paying you every two weeks instead of daily. This still gets you paid significantly faster than the 45 to 60-day timeframe our clients pay us, and it allows us to continue giving you access to tasks from national clients.
Grouping payments is something contractors have consistently asked for over the years. Combining your payments into a single deposit every two weeks simplifies your accounting, improving the tracking and visibility of your earnings. We will be providing enhanced reporting so you can more easily track the payment status of tasks you perform.
Here's a sneak peek of how we will pay you.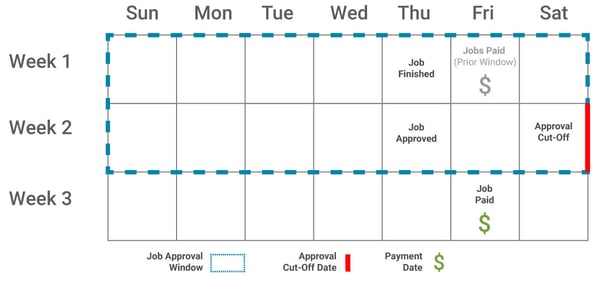 For more information about the new payment process visit our Contractor Resource Center. Watch for further communications as the July 31st date approaches.
Thank you,
TaskEasy
Schedule a meeting for Monday to discuss feedback for this email with Adrian: https://meetings.hubspot.com/adrian-raso